INS Awards and Recognition Program
The Infusion Excellence Award program recognizes leadership, education, research, innovation, and certification as categories most reflective of today's infusion nurse and the infusion specialty. By developing individual awards represented in these categories, INS and INCC will help honor INS member clinicians who have made significant contributions to their organizations and the infusion specialty.
INS members can nominate individuals within their professional community to receive these awards. Potential recipients will be determined by the INS Awards and Recognition Committee. Award recipients will be recognized on this web page, through an INS podcast, and in a special column in INSider.
The program will recognize 6 individuals each year with an award given bimonthly in the following categories: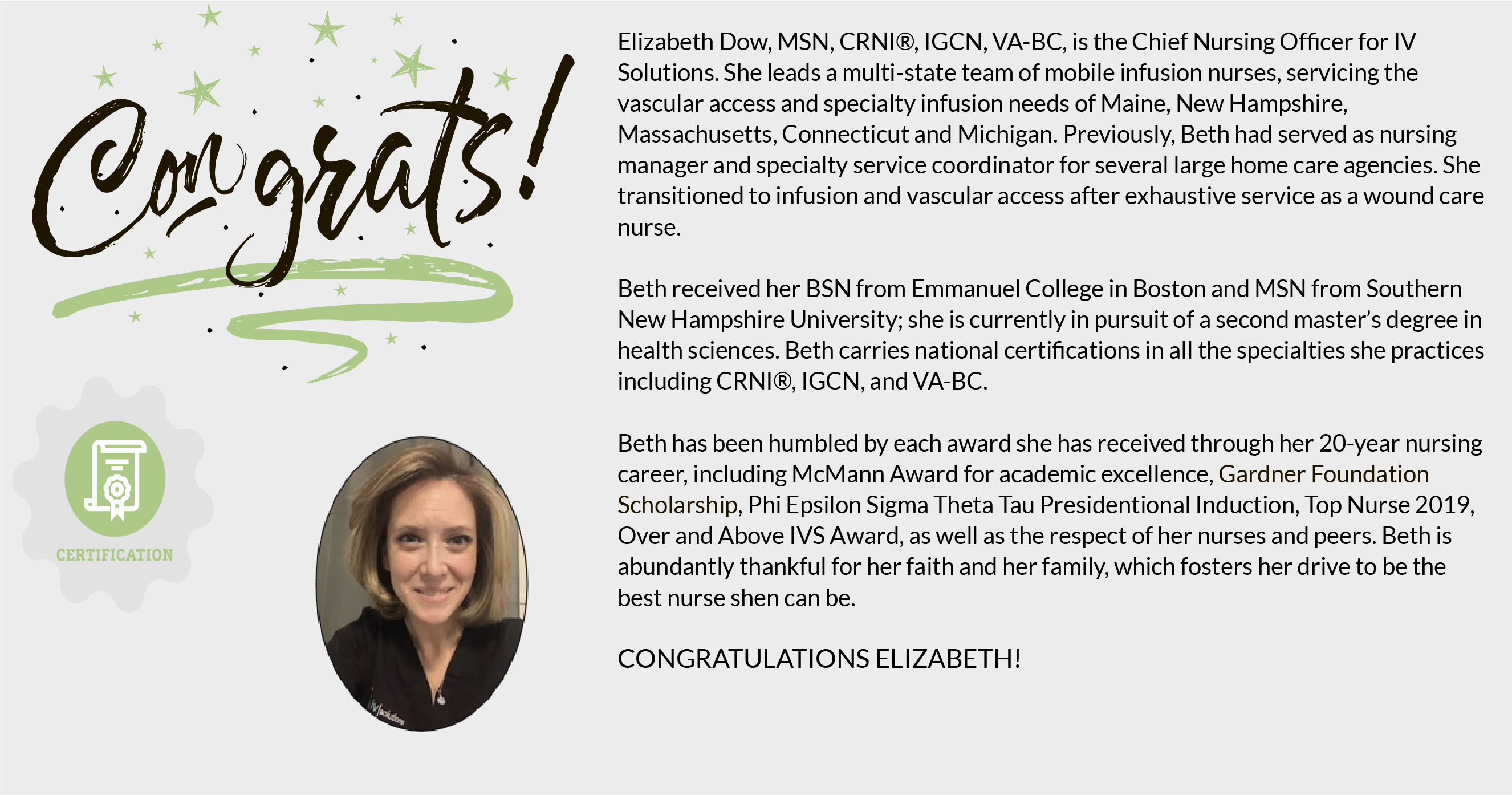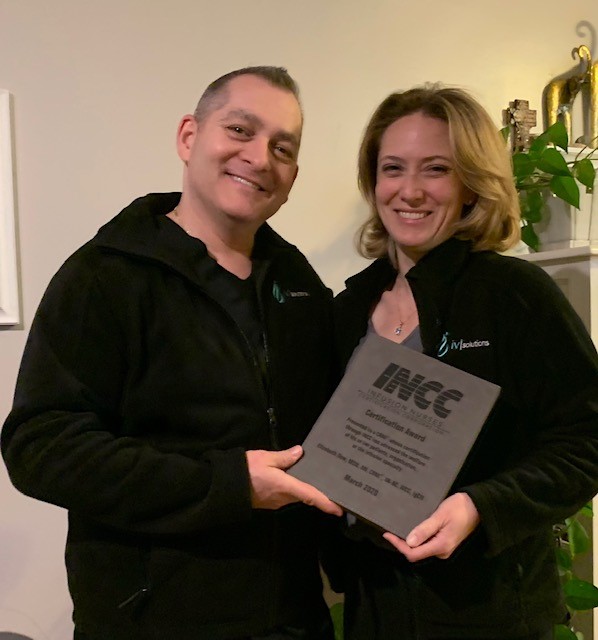 Elizabeth Dow, MSN, CRNI®, IGCN, VA-BC, received her INS Certification Award from Randall Barnes. Congrats, Elizabeth!
Rising Star Award: Presented to an infusion nurse who is new to nursing and the infusion specialty (within last 5 years), has influenced the profession, and is poised for future contributions.
Leadership: Presented to an infusion nurse in a management position or higher who provides leadership, guidance, dedicated service and vision of success to his or her organization and exemplifies the traits of a leader.
Education: Presented to an infusion nurse educator in either an academic or clinical setting, whose mentoring and teaching ability raises the standard of infusion practice education for students.
Innovation: Presented to an infusion nurse or group of nurses from any practice area who has contributed to the clinical setting and/or organization through the development of innovative techniques, programs, or processes leading to improvements in infusion-based care.
Research: Presented an infusion nurse or group of nurses from any practice setting who has conducted original research leading to an identifiable/ measurable impact on infusion-related practice, policy, quality and patient safety, advocacy and/or service.
Certification: Presented to a CRNI® whose certification through INCC has advanced the welfare of his or her patients, organization, or the infusion specialty
About INS
The Infusion Nurses Society (INS) is an international nonprofit organization representing infusion nurses and other clinicians  who are engaged in the specialty practice of infusion therapy.
Join Today >
Contact Us
One Edgewater Drive
Suite 209
Norwood, MA 02062
Phone: (781) 440-9408
Fax: (781) 440-9409
Email: ins@ins1.org